Enriching the lives of our future leaders
We enable Arizona families with the opportunity to enroll their students at a private school of their choosing by utilizing the Arizona tuition tax credit.
Give the gift of private education!
Immediate tax savings and no out-of-pocket costs to donors!
Provide a scholarship to a K-12 student to attend a school that best meets each individual child through the Arizona tax credit program.
Dollar-for-dollar tax credits for EVERYONE
Maximum tax credit allowed or your actual tax liabilities
Allocate up to 100% of your corporate state income tax liabilities
Contributions are accepted year-round. Discover your tax credit options and donate today!
An all-in-one financial aid application!
One single application submits your student to be considered for all 4 types of financial aid awards we offer.
At STO4KIDZ, we believe that every student should have the opportunity to enroll and/or stay in the private school of their choice. Discover how to assist us in our mission by watching the informational videos below.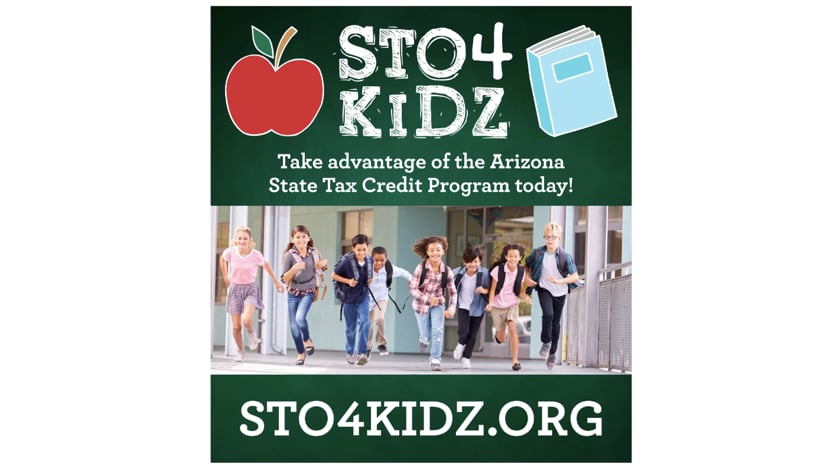 Crédito de impuestos individual
Browse our most frequently asked questions.
STO4KIDZ accepts contributions throughout the year. Contributions must be made prior to filing your taxes but no later than April 15.
You can contribute up to the combined maximum of the Original ARS 43-1089 and the Switcher ARS 43-1089.03, or your Arizona tax liability, whichever is less, and receive a dollar-for-dollar Arizona state tax credit. If you have no liability, you cannot receive a dollar-for-dollar tax credit.